statistics-competition-2020 Duplicate 3
Statistics Competition 2020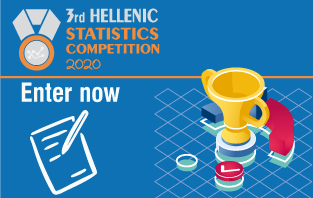 The Hellenic Statistical Authority (ELSTAT), within the framework of its strategy in "Fostering statistical literacy in Greece", is organizing, for the third time, the "Hellenic Statistics Competition".
The competition aims to showcase talented students interested in statistical science and the production and use of official statistics in their daily lives, but also in other areas of society, such as economics and policy-making.
The general objectives of the European Statistics Competition are:
To promote curiosity and interest in statistics among students.
To encourage teachers to use new materials for teaching statistics by promoting the use of real data and search for applications of acquired statistical knowledge.
To show the role of statistics to students and teachers in various aspects of society, making it known as a university study.
To promote teamwork and collaboration to achieve common goals.
Participation in the Competition is open to all secondary school students studying in public and private educational units in the country and therefore, the material related to the Competition is only available in Greek.