EMOS - Post-graduate education in Official Statistics at European level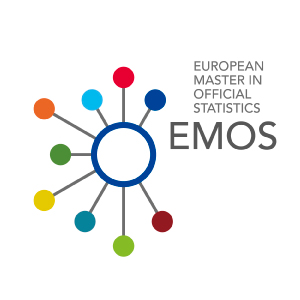 What is EMOS?
The European Master in Official Statistics (EMOS) is a network of Master programmes providing post-graduate education in the area of official statistics at European level. EMOS is a joint project of universities and data producers in Europe.
Why EMOS ?
added value for the Master programme
combination of theory and hands-on training
a programme with European dimension
internships and master thesis topics on specific statistical applications
great opportunities for a career in EU statistical agencies
How a Master programme is awarded the EMOS label?
EMOS requirements
Results of the 3rd call for application for awarding EMOS label to master programmes
On 7 February 2019 the European Statistical System Committee (ESSC) unanimously approved the list of Master programmes proposed by EMOS Board to be awarded with the EMOS label.
The Postgraduate Programme in "Statistics and Modelling" of the Department of Mathematics of the Aristotle University of Thessaloniki (AUTH) is the first Greek Master Programme that managed to join the select network of Master programmes awarded with the prestigious EMOS label.
The EMOS label will be valid for four academic years, starting from spring 2019 to spring 2023 and it is recognised by all European National Statistical Institutes, Central Banks and other European and national agencies.
More information