World Statistics Day - Better data. Better lives.
20 October 2015 - World Statistics Day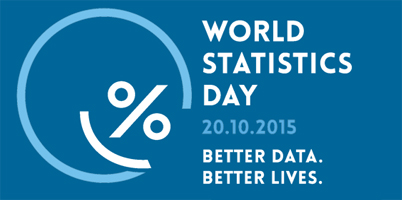 The celebration of the World Statistics Day was proclaimed by the General Assembly of the United Nations for the first time in 2010 and, since then, the World Statistics Day is celebrated every five years on 20 October to recognise the importance of statistics in the building and functioning of modern societies.
The day is important both for the global statistical community and for simple users of statistics who acknowledge the fundamental role of statistics in the economy, social development and but also democracy itself.
Announcement of ELSTAT for Worlds Statistics Day
Competition for the best paper in the field of official statistics - International Association for Official Statistics (IAOS)
More information here www.worldstatisticsday.org
Official statistics help governments drawing sound and evidence-based policies aiming at the sustainable economic development of their countries and the continuous improvement of the quality of life of citizens. They also help users of statistics to take informed decisions and draw safe conclusions in their daily work.